Innovative 'Hidden' Project Receives Grant to Transform Social Care Workforce Training
The Foundational Economy Innovation Fund has allocated £10,000 in grant funding, coupled with expert support, to our "Hidden" project!
This endeavour seeks to reimagine the way training is delivered to social care staff, fostering compassion, connection, and innovative learning experiences.
The Foundational Economy Innovation Fund, as part of its mission to fortify businesses and organisations in Greater Manchester's everyday economy, has earmarked a remarkable £1,000,000 over a span of two years to facilitate experimentation and resilience-building. Among the beneficiaries, our "Hidden" project has been awarded £10,000 to develop and trial inventive ideas within the social care realm.
The "Hidden" project encapsulates an immersive blend of audio and film experiences designed to invite listeners into the lives of fictional characters. These characters, carefully devised in collaboration with the community, encounter moments of crisis and transition. By stepping into the shoes of these characters, listeners are afforded the opportunity to reflect on their own circumstances while developing empathy and understanding.
The ultimate objective of each episode is to create a space of compassion, connection, and openness, and then challenge listeners to support the characters they've come to know. Through the power of music, sound effects, and drama, "Hidden" strives to foster an emotional connection that inspires positive action.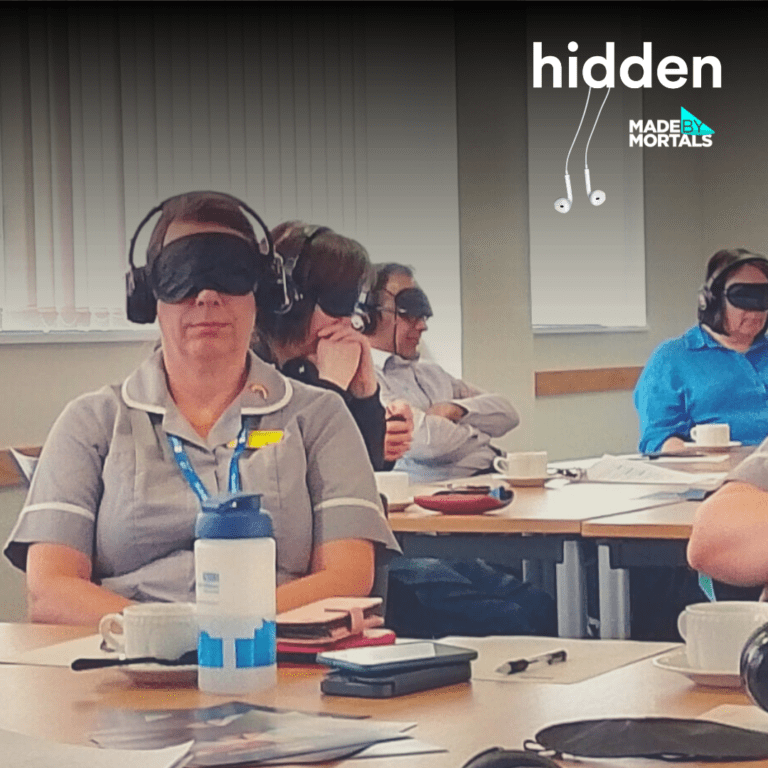 The grant from the Foundational Economy Innovation Fund will be instrumental in transforming the "Hidden" programme into an Immersive Learning Experience. Some of the challenges we hope to help tackle within this sector are:
Reigniting Passion for Care: The "Hidden" Immersive Learning Experience acknowledges the tendency for social care staff to become engrossed in paperwork, often diverting their focus from the heart of their profession – caring for people. By rekindling this passion, the project aims to reaffirm the purpose of social care and its impact on the lives of Greater Manchester residents.
Knowledge Accessibility: Staff often express a desire to learn from both lived experiences and health and social care research, but the limitations of time and resource constraints hinder this process. The "Hidden" initiative bridges this gap by offering a dynamic platform that distills research findings into immersive, accessible experiences, fostering a deeper understanding of best practices.
Enhanced Learning through Immersion: Through immersive theatrical experiences held in non-clinical environments, such as theatres or community spaces, social care staff will be able to learn and connect with their peers. Lived experience knowledge, supported by research findings, will be conveyed through drama, storytelling, film, music, and sound effects, engaging multiple senses for a richer, more impactful learning journey.
Facilitating Reflective Discussions: The project provides an avenue for staff to engage in meaningful discussions with colleagues about the challenges individuals face within the social care spectrum. By sharing insights and collectively brainstorming solutions, the workforce can collaboratively contribute to improved care and support for those experiencing health inequalities.
As the "Hidden" project evolves into an Immersive Learning Experience, its potential to revolutionise social care training and impact the lives of both care recipients and providers is undeniable. With the Foundational Economy Innovation Fund's support, our vision of a more compassionate and effective social care sector stands poised to become a reality, setting an example for innovation in workforce development.
Find out more…
If you would like further information on future immersive learning experiences, please sign up to our newsletter.
Read more about how our Hidden programme challenges people to walk in another person's shoes.