Learning in Lockdown has presented opportunities to develop new skills and realise new opportunities.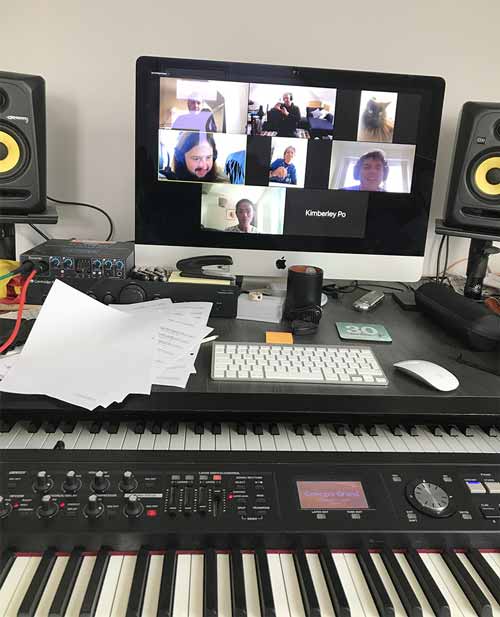 This opening statement is true for us as an organisation and for the people we serve. We have seen people overcome their fear of technology, make connections in new ways, extend their social networks, discover the joy of independent learning and find resilience to the challenging times we all face through participation in creativity with others. Our organisation has had the opportunity to adapt our learning methodologies for a digital setting, improve our reach and offer through virtual learning and provide a service that can help people furthest from the labour market to develop their skills and maintain feelings of purpose and hope in the future. I strongly believe that this feeling is the bedrock to helping people into employment and future learning. A sense of purpose and hope helps people to improve their futures and take on new challenges and experiences. We are proud to be able to continue to help foster this feeling for our participants at this difficult time. Together we have all realised that physical distancing does not have to become social isolation when you can still come together to learn, share and create. 
Many of the participants we worked with through our European Social Funded project 'Best Medicine' had very limited experience of virtual learning and video conferencing- several do not have access to WIFI. This did not prevent almost everyone we worked with in the physical world accessing our project activities online. This is how we did it… 
Embrace technology: Like many organisations we turned to Zoom. We watch multiple tutorials and attended webinars to garner as much information on using Zoom as we could. We began with smaller groups and shorter time periods – testing things out and learning as we went. We offered 1to1 technical support sessions with participants to help them with their access needs. One of the barriers to this support was that in many cases we were communicating with the person on the very device they needed support in using. My top tip for dealing with this is… (wait for it) patience and bags of it. We also resourced mics and video cameras for those participants who had WIFI but not all the equipment they needed to take part. This was particularly the case for our participants in assisted living settings – many of which, without our intervention, would have been locked out of virtual learning opportunities due to poor equipment and a lack of IT training for the staff who support them. We also upgraded our Zoom account to include a freephone number for people to use if they did not have WIFI or if on any given day their WIFI/device was on the blink. This presented some facilitation-based challenges, as we had to adapt our delivery method to accommodate people that could not see, but in terms of access and inclusion it was worth its weight in gold. 
Making use of the format: we made the 'mute all' button, 'breakout rooms' and 'chat function' our friend. At the start of each session one of the creative practitioners would deal with any of the technical difficulties people were encountering, while the other was in another 'room' facilitating a good old-fashioned chat- everyone taking it in turns to tell each other about their lockdown week. To help combat awkward silences we kept people informed of what was happening – in many ways we were often just 'stating the blooming obvious' but it worked. What I mean by this is, when we were waiting for 5 minutes for late comers we said so – when we had technical hiccups, we gave a running commentary – and if things got awkward or boring or frustrating, we named those experiences and often made light of them. This helped put people's minds at rest and made them feel in a safe pair of hands.
Taking turns: With their 'original sound' feature, Zoom was also the best platform for us to create and perform music alongside our participants. To begin with we were sceptical about how successful group music making could work online; participants' different internet speeds meant it was impossible for everyone to play/sing together simultaneously. However, seeing people you know, singing the same words, jamming to the same music, and dancing like…well no-ones listening, is extremely powerful! It didn't matter that everyone was on mute and you could only hear yourself, you knew and could see that others were doing the same thing as you, and in an unexpected way this made the connection even more powerful than before. 
Theatre in a box: As a theatre maker it was important to me to make best use of what was available to improve my ability to engage the participants in the learning activities. I felt it was vital not to just deliver learning as a static video call, so… I stood up to deliver the sessions (revolutionary I know). This helped to create depth and allowed me to move in and out of the camera for emphasis and dramatic effect. Also, I used my voice in a similar way to drive engagement. I also used props and costumes and encouraged others to do so. I guess, in many ways, I honed my inner TV presenter and used the camera and my relationship to it as a tool. Also, I made good use of lighting – ensuring that the natural light was hitting my face, so I was fully visible to the participants. The principle is that the more you can see people and in-particular their facial expressions the better sense of human connection you can have. This is true in the virtual world as well as the physical one and helped drive our learning outcomes in this 'brave new world'. 
Fun, communication and creativity: We have done our upmost to facilitate this for our learners and, in return, they have facilitated this for us – often in bucket loads. What I mean by this is, as individual practitioners our lockdown lives have been vastly improved by having the opportunity to continue the job we love. Also, as an organisation we have had lots of fun, developed our communication skills no end and had to be very creative when adapting our learning methodologies for the online world. Through our online workshops we can now offer our learners imaginative warm-up activities and songs that help people stay active and 'get-out-their-heads' and 'into-their-bodies'; music and drama games that improve focus; communication and/or teamwork; lyric writing exercises that help people express their feelings and opinions through music and song; story creation exercises that give people the opportunity to be heard and understand what they say/experience matters; character workshops that help provide a platform for peer-to-peer support and drama/movement activities that promote connection and teamwork and ultimately combat loneliness. This has all become possible for us in a digital format and available to the people we serve from the safety/confines of their own homes. Covid-19 and the resulting lockdown has been a terrible burden to bear but discovering the ability to reach out beyond the workshop and performance spaces we usually inhabit, has been an opportunity we have embraced and very much want to make use of as we move into a post lockdown world. The skill of helping people feel purpose and hope has never been so important and learning new ways to do this is an opportunity we will celebrate and cherish.  
Thank you to ESF and the WEA for the ongoing support and opportunity to allow us to continue our work.