Help us to boost the visibility of Armchair Adventures in only a few easy steps!
This tutorial is for apple iPhone or iPad users. If you're using another device – you can share the love of Armchair Adventures by shouting about us on social media using the hashtag #Armchair Adventures
If you have listened to podcasts before you have probably heard the podcast host asking you to rate and review their podcast. This is important for podcasters as it's always nice to receive feedback and it helps other people find podcasts!
If you're a fan of Armchair Adventures, you may be wondering how can I share my love of this podcast with others? One way you can do this and review a podcast on Apple Podcasts. 
1. RATING AND REVIEWING ARMCHAIR ADVENTURES
On your iPhone or iPad open up Apple podcasts
If you don't have Apple Podcasts you can download it on the Apple App Store.
2. FIND ARMCHAIR ADVENTURES
To rate and review Armchair Adventures you search 'Armchair Adventures' in the search bar and scroll down the page past the episodes to 'Ratings and Reviews'. 
Here you can tap to rate the podcast by pressing how many stars you would rate the podcast.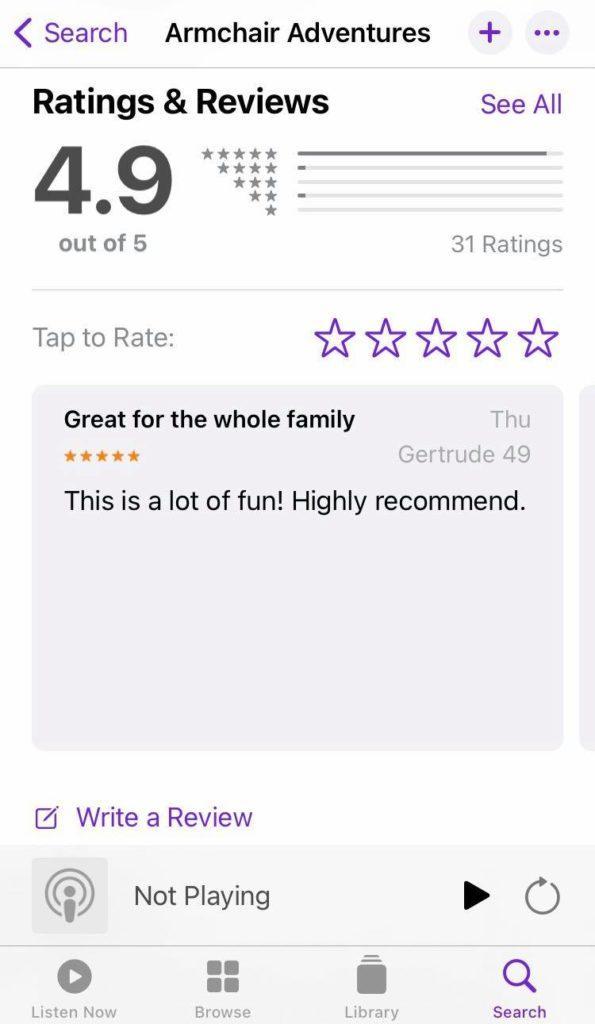 You can then press 'see all' to review the podcast by pressing the words 'write a review' and a page will come up where you can write and share your thoughts on your chosen podcast.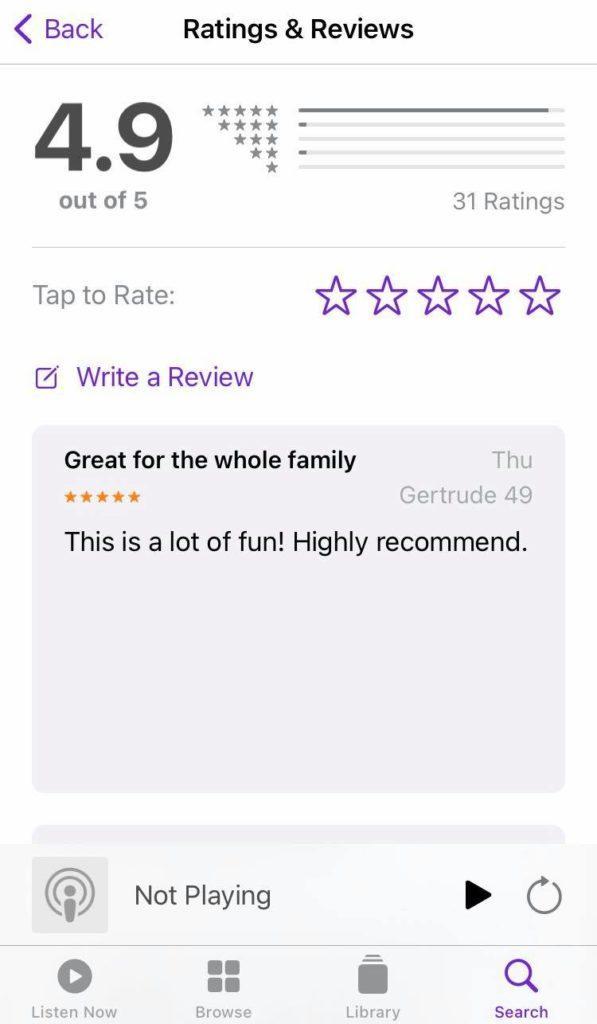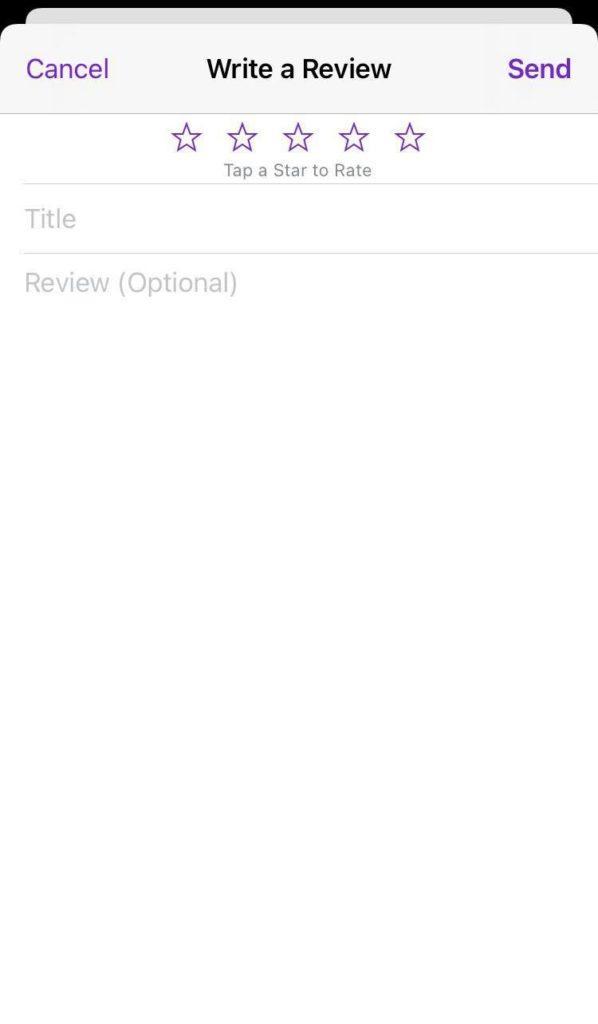 If you enjoy a podcast and would like to subscribe/ follow it, you don't have to pay for anything it just means the podcast gets added to your library and any new future episodes of the podcast will automatically be in your library, so you can listen to new episodes of Armchair Adventures every month straight away!
This is the screen you will see immediately once you have clicked Armchair Adventures on Apple Podcasts, from here you can follow Armchair Adventures in the top right-hand corner by pressing the plus button.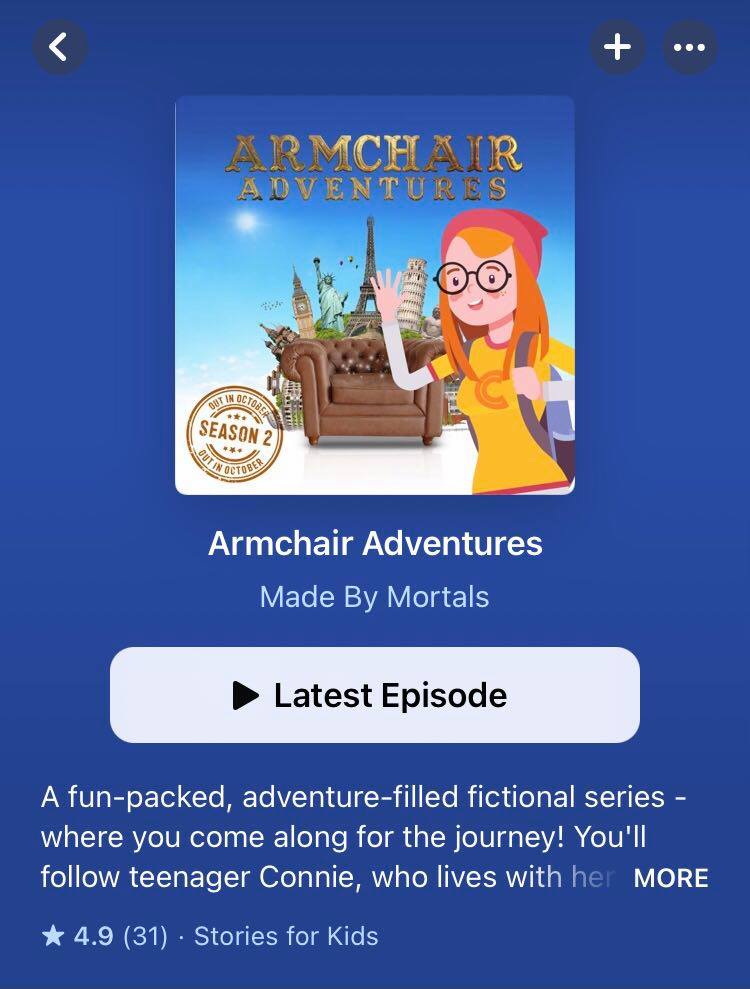 We hope you found this useful in helping you to rate and review Armchair Adventures. We look forward to hearing your thoughts on our podcast. 
Thank – you Adventurers!
About Armchair Adventures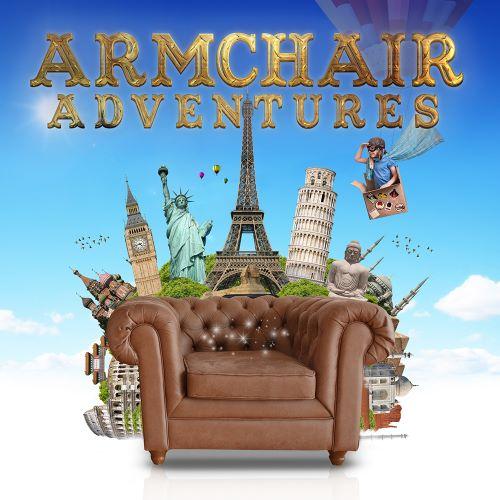 Armchair Adventures is a brand-new colourful, fictional and interactive podcast series about Connie and her gang of plucky explorers – and YOU can come along on the adventure too. 
It's a podcast for families, kids and older people. In fact, the voices that you'll hear in each episode belong to real over 55's stuck in isolation, who are keen to experience the outside world through the power of imagination. 
Armchair Adventures was recently recommended by BBC Radio 4's Podcast Hour and featured on Podcast Radio.
Available for free, wherever you get your podcast including