In our latest episode of Armchair Adventures, we unravel the magic of Gujarat's wedding traditions with the help of Dipak Dristi!
Head Travel Agent Connie is excited for her cousin's Hindu wedding! However she's never been to a Hindu wedding before, and has no idea what to expect! She seeks the help of Dipak Dristi, a local social group for older people of South Asian heritage social group. They are able to provide valuable insights into Gujarati traditions and ceremonies. Listeners are greeted with warm "Jay Shree Krishna" exchanges!
They decide it would be best to go on an adventure to Gujarat to learn more about the wedding traditions, particularly The Baraat!
Indu: With the baraat, the groom, his family and friends travel from one town to another, until they arrive at the Bride's house.

Kanta: When the tradition began, they travelled in a bullcart.
A local farmer offers their cart for the Baraat, and Connie suggests a race! Hold onto your hats as the adventurers! 🐂💨
The gang all race to a Mehndi party, unveiling the romantic and artistic side of Indian weddings! However, the adventure takes an unexpected turn when it starts pouring with rain. 🌦️
The unanticipated rain turns the celebration into a joyful dance in the monsoon. However, a muddy path and a surprise bridesmaid request for Connie add a twist to the journey. Will they make it back in time for her cousins the Mehndi? Tune in to the next episode to find out!
Big shout out To The National Lottery Community Fund for making this episode possible!
About Armchair Adventures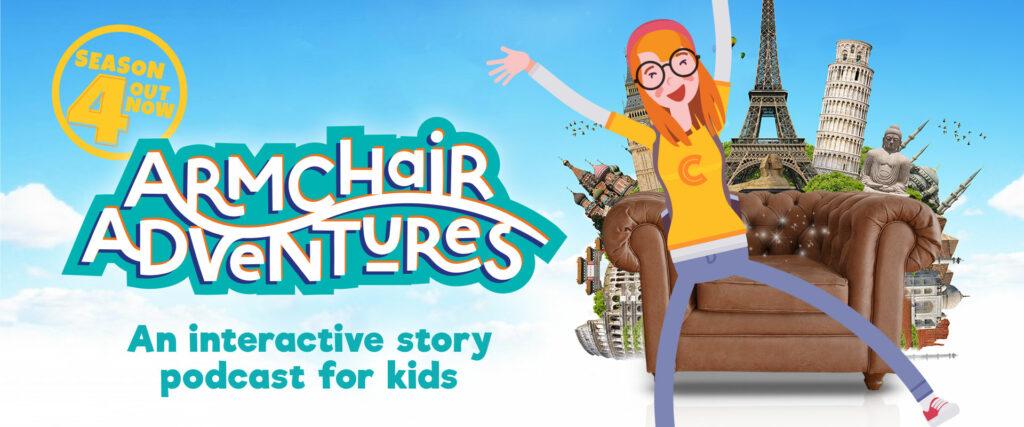 Armchair Adventures is a multi-award-winning podcast for kids – aged 6-10. It's super-fun, educational and interactive – meaning it's packed with sing and move-along activities! 
Each episode is a new adventure of your imagination with Connie her gang of explorers – including you! Adventures include exploring a superhero lair, ballroom dancing and diving into a coral reef! Every episode also has an educational message for our mini adventurers like climate change, racial equality and recycling.
Armchair Adventures won Bronze at The British Podcast Awards 2022, has been profiled on BBC Radio 4's Podcast Hour, in Podbible, featured on Podcast Radio, commended by HRH Prince William and is the first kids podcast available in-flight on all Virgin Atlantic flights!