The latest instalment, Armchair Adventures, takes us back to the vibrant land of Gujarat, India, where Connie and her fellow adventurers are immersed in the festivities of a traditional Hindu wedding. Part 2 promises to be as exciting as the first, with cultural exploration and lively traditions!
As Connie arrives for the wedding, the villagers graciously dress her in a stunning red and gold traditional outfit, making her an honorary bridesmaid. The camaraderie and warmth of the villagers add a personal touch to the experience, making Connie feel like a true part of the celebration.
Indu: You're wearing a lehenga. Which is the skirt.

Hansa: And a choli, which is the top.

Lalita: Let's finish it off with a red rose for your hair.

Connie: Thank you. What is thank you in Gujarati?

Kanta: Thank you is Aabhar.

Connie: Aabhar. Thank you to everyone for your kindness, for giving me an outfit to wear to the wedding. It's so kind of you.
Connie needs to get home to make it in time for Sura's sister's wedding, but it looks challenging! The villagers extend their hospitality, sharing a traditional Gujarati meal with the adventurers. The generous offer of clothes and food eventually calms Connie nerves, as she learns more about the importance of tradition, unity, and the spirit of "Atithi Devo Bhava" (Guest is God).
The villagers share stories, including an extraordinary tale of Hanuman, the son of the God of wind. The night concludes with the adventurers enjoying a traditional Gujarati meal, complete with dhokla and pahaadi saag, all while receiving blessings for their journey ahead. Before they go to bed, Connie prays that the rain will end so she can get home!
As dawn breaks, the adventurers wake up to a beautiful sunrise, and the rain has disappeared! Connie can return for the wedding but still doesn't fully know what to expect.

The gang and Dipak Dristi decide to recreate key moments of a Hindu wedding to teach Connie!
Do you know what to expect from a Hindu Wedding adventurer? You'll have to listen to our latest episode to find out!
About Armchair Adventures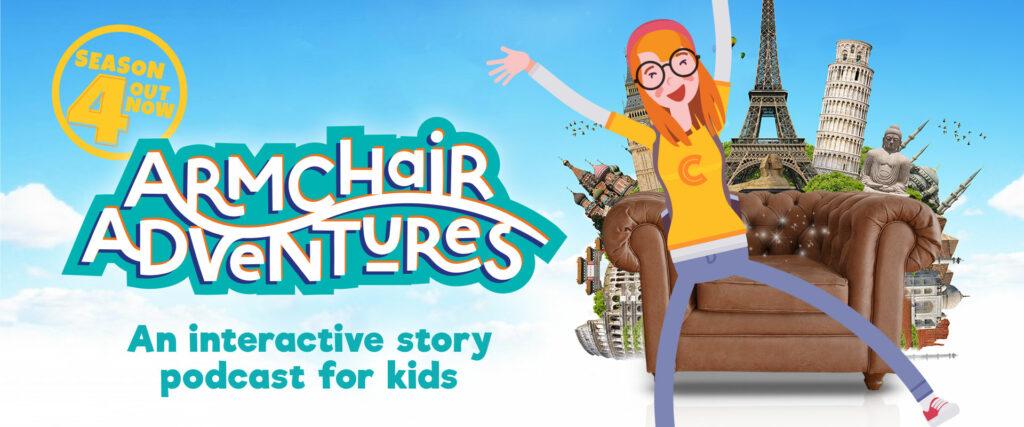 Armchair Adventures is a multi-award-winning podcast for kids – aged 6-10. It's super-fun, educational and interactive – meaning it's packed with sing and move-along activities! 
Each episode is a new adventure of your imagination with Connie her gang of explorers – including you! Adventures include exploring a superhero lair, ballroom dancing and diving into a coral reef! Every episode also has an educational message for our mini adventurers like climate change, racial equality and recycling.
Armchair Adventures won Bronze at The British Podcast Awards 2022, has been profiled on BBC Radio 4's Podcast Hour, in Podbible, featured on Podcast Radio, commended by HRH Prince William and is the first kids podcast available in-flight on all Virgin Atlantic flights!