Sharing Adam's Story at Eccles Sixth Form College on World Mental Health Day 2023
On World Mental Health Day 2023, we went to Eccles Sixth Form College in Greater Manchester and engaged in a meaningful exploration of mental health through the lens of Adam's Story. Presented to 100 students, the interactive film created a space for genuine discussions and reflections.
Featuring an 18-year-old in the film resonated strongly with students. "I like how they've used an 18-year-old…we're all around this age." Students also shared their ideas for how Adam's family could support themselves and each other better, and reflected on how Adam's key worker could do things differently.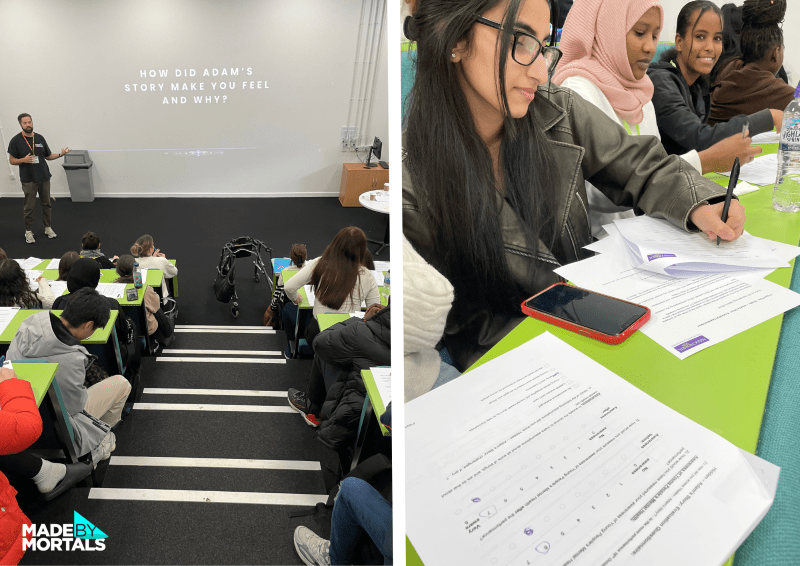 Asking questions at the end of the film and inviting students to be part of the mental health conversation was important for them. One student shared, "speaking, and answering your questions really helped me." Others reflected that conversations around mental health are vital, with one student noting that mental health research, "needs to get better… to a point where people of all races, all ages, all genders don't have to feel so alone."
The event was enriched by the presence of Ashgan, one of the young people who helped co-produce the film. Ashgan's firsthand account shed light on the collaborative nature of the project, and how important younger voices are in mental health research. She also highlighted the need to amplify diverse voices in the conversation so that mental health stories and research can resonate with more people and communities. Again this was reflected by conversations with the students who liked that different cultural experiences and languages were shown in Adam's Story.
Lived Experience Researcher Andrew Grundy from Manchester University was also present to gather written feedback from staff and students. Andrew will work with the co-producing group to analyze these responses, promising insights we're hoping will be shared through publication. This will widen the reach of the project and hopefully inspire more work in this area!
At the end of the morning, Gemma Roberts, Head of Department for Health and Social Care, shared, "having you come in and show Adam's Story, and from different perspectives as well, it just adds so much value to what we're teaching them in the curriculum."
We had a great time at Eccles College! It was a testament to the power of storytelling and the importance of fostering open conversations around mental health with young people. As Adam's Story is now live on YouTube, and the accompanying guide is available on our website, we eagerly anticipate its ongoing impact and the potential for further shared discussions!
Listen to Gemma Roberts, Head of Department for Health and Social Care reflect on the experience:
Listen to students share some of their thoughts on the film:
Listen to students reflect on the importance of mental health research:
Watch Hidden: Adam's Story on YouTube, and share your thoughts and discussion insights in the comments section.
For more information about how Made By Mortals can support your project including a quote, please email admin@madebymortals.org or call 0161 804 2078