Our wonderful Johnny Barlow Theatre Company was one of the highlights of our Bringing People's Experience to Life event last week. This inaugural event brought together health and social care researchers from across the North to showcase and demonstrate the value of using participatory arts as innovative PPIE within research and services.
We welcomed more than 40 delegates from universities and the public sector to our home at the Guide Bridge Theatre in Audenshaw, just outside Manchester. The aim was to showcase and share knowledge from our past projects involving co-production and participatory arts. 
Throughout the afternoon, we heard from a variety of experts who had worked with groups of people with relevant lived experience to shape both research projects and patient experience sessions. 
The event featured a live theatre performance from the Johnny Barlow Theatre Company, an interactive art installation to showcase our Armchair Adventures podcast, as well as a Round Table discussion. We welcomed thoughts and questions as we went along, which created an intimate and friendly atmosphere.
The Johnny Barlow Theatre Company was set up nearly 30 years ago to use theatre in a therapeutic way to help people recover from mental illness. Now facilitated by Made by Mortals, the group uses their lived experience to create productions that inspire social change and help shape public services.  
Our event launched with a mixture of immersive audio and theatrical pieces from our Hidden programme. The theatre group dissected how they had created a character called Richard, who was having mental health difficulties, and how they used their own lived experience to create a script that allowed us, the audience to take a walk in Richard's shoes. 
By using this immersive theatre production to demonstrate some of the work we do here at Made by Mortals, the delegates could actually see how it was put together and the multiple benefits of hearing from real people with relevant lived experience. We heard from the theatre group members how and why they took part and what they got from the experience too.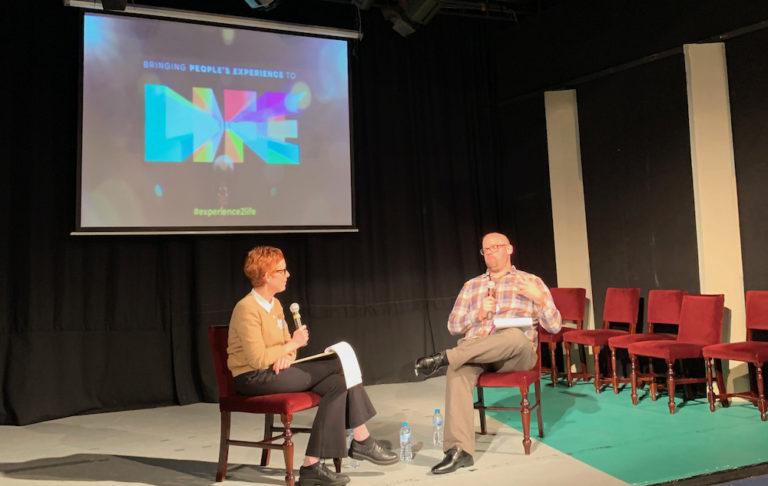 Rats in the Sofa case study
Julie Farley, head of Oldham Safeguarding Adults Board, came to the stage to chat with our director Paul Hine about the forward-thinking and innovative joint project they created back in 2019, called Rats in the Sofa. 
Julie explained how when you put a number of different organisations and departments around a table to discuss how you can help people with alcohol-dependency, for example, they would all come up with a different solution. 
However, she decided to put people with lived experience right at the heart of the project to talk about how they would react to different situations and how they would see various interventions. 
This gave the safeguarding team and other relevant health teams a real insight into how their services are viewed and how they can really get to the real issues and offer support and assistance when and how it's needed by the actual service users. 
This insightful discussion brought together a range of people to discuss how researchers can move forwards with applying for funding to enhance and innovate in the public involvement and engagements aspects of their research. 
The panel was expertly chaired by Dr Paul Clarkson, who is a senior lecturer of social care at the University of Manchester and deputy director of Social Care and Society. 
He was joined by Rob Conyers, head of patient experience at Tameside Hospital; Julie Farley from Oldham Safeguarding Adults Board; Dr Hazel Moreby, from Lancaster University; Annie Keane from Vocal and Jess Drinkwater, a GP and clinical lecturer at the University of Manchester. 
They discussed the benefits of using a participatory co-produced theatre for PPIE as opposed to a very traditional focus group, as well as the challenges around getting funding and support for a method that is very new within research. 
We will be publishing more content about the Round Table so visit the blog page soon for more info! 
We'd love to, once again, thank everyone who helped and took part in our very first Bringing People's Experience to Life event, as well as everyone who attended. 
Would you like more information about using participatory arts in PPIE? 
If anyone would like more information about working on a joint project for health research, health policy or health services, please contact Paul@madebymortals.org.
Make sure you follow us on Twitter for all our news and updates too. 
@MadebyMortals