Armchair Adventures: A Poetry Adventure Part Two!
Are you ready to dive back into the wonderful world of poetry with Armchair Adventures? Part two of A Poetry Adventure is out now!
What happened in part one of A Poetry Adventure?
Cast your mind back to the start of the month when we joined Connie and the gang for the first part of A Poetry Adventure. You might like to remind yourself where we went by listening again, or you can read on for a refresher! 


Connie had to write a poem for her English homework, and she didn't even know where to start. Luckily, poet Pauline and the crew know a thing or two about poetry! They took us on a journey into some of their favourite poems, stepping into vivid worlds created with words – from the bustling carnival to a ride on a steam train. Connie tried out some of the techniques they taught her, but her heart wasn't in it so she stayed stuck in the land of poetry!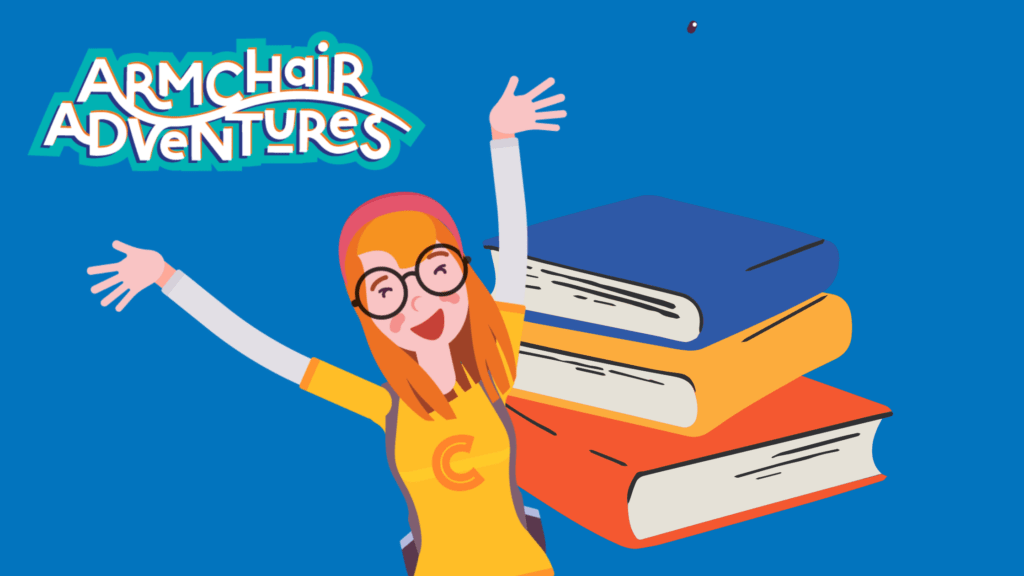 A Poetry Adventure Part Two!
In part two, we rejoin Connie as she's determined to write a perfect poem to get her back home. Pauline and the gang help Connie work through the problem and figure out what's holding her back…
"Connie: Hmm. Somehow the words that are in my head won't come down my arm and onto the page!

 

Pauline: Why do you think that you aren't able to use your words? 

 

Connie: I don't know. It's. urgh… I suppose… Maybe… It's embarrassing! The rest of the class will hear the thoughts from inside my head. 

 

Pauline: That's ok. Everyone will be sharing something personal to them. 

 

Connie: I know… But I'm not a poet.

 

Pauline: You are a poet! Or you will be.

 

Connie: I can't!

 

Customer: Yes, you can, Connie!

 

Customer: You can do anything!

 

Pauline: When my children were little, I told them, "if you can't say what you want, write it down." It unlocks your feelings. That's why I started writing poetry."
Can Connie unlock her feelings and put them on paper? Listen to A Poetry Adventure Part 2 to find out!
The poetry fun doesn't stop there. We've created a free activity sheet to get all of our adventurers writing poems, just like Connie! We'll share the best ones with our audience around the world, so make sure you send your best ones to us via Facebook or Instagram.
👂 Listen now to the Armchair Adventures Podcast series 👂
Available for free, wherever you listen to podcasts including
or, you can also ask your Alexa or Google home very nicely to play 'Armchair Adventures podcast'
👇Follow us on our socials!👇
Keep up-to-date on all things #ArmchairAdventure
Got a question, enquiry or simply want to get in touch?