We have compiled a list of 5 easter activities for you and your family this bank holiday weekend. After a week of sunshine, brighter nights and lifted restrictions, it's being topped off with a long weekend. What could be better?
1. Easter Egg cheesecakes
If you're not that active on Instagram (we're definitely more Twitter people) you won't have seen the Easter Egg cheesecake trend! After very VERY thorough testing, we can confirm it is worth it and recommend you try it out this bank holiday. Just split your eggs in half, line with biscuit, then top with cheesecake mixture. Bon appetit! The perfect easter activity with all those leftover eggs (if you have any!)
2. Plant flowers
Nothing says Spring like tulips, daffodils and daisies. Those of you who are green-fingered, you'll know these are supposed to be planted outdoors in Autumn to bloom when Spring awakes. But don't worry if you're not that organised. You can plant bulbs indoors at any time of year and watch them bloom as a family. Don't forget to water!
3. Brunch Competition
Do you live locally to your family or friends? Each day one household can prepare a brunch delivery and drop it around one another's homes. Take it in turns and give everyone a score. The highest scoring household wins an Easter egg! If you don't live locally to others, then simply host the competition between your own house.
Current restrictions in the UK: Rule of 6 outdoors from up to 6 households. OR, a group of any size made up of only 2 households. (So if you are a household of 5 people, and Grandma lives in a household of 6 people, all 11 of you can have a picnic outdoors together.)
4. Draw an Easter Adventure
Our drawing competition is still open. All you need to do is send us a drawing of where you'd send Connie and her explorers on an Armchair Adventure. Then send it over to us and our favourites will win some amazing prizes! Have a read of this blog post for all the T&Cs and more details on all the prizes.
5. Listen to the Armchair Adventures Podcast
We couldn't leave the list before making sure you listen to our latest adventure. And it's a good one! We're joined by a brand new set of adventurers who tour their plays around school, assisted living homes and community centres. After dreaming of Broadway, the West End, Paris, and even Vegas, Connie settles on… a mixture of all of them! A Showbiz Wonderland where everyone can be the star of the show.
About Armchair Adventures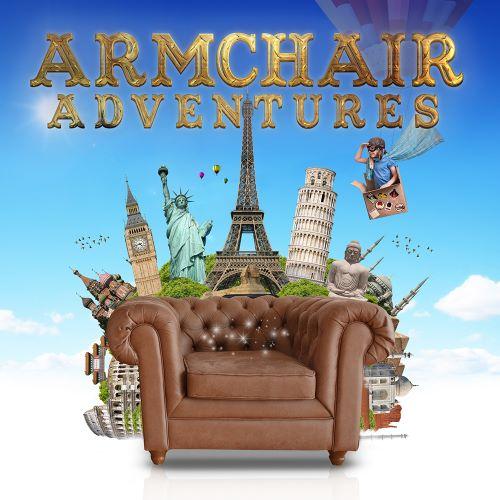 Armchair Adventures is a brand-new colourful, fictional and interactive podcast series about Connie and her gang of plucky explorers – and YOU can come along on the adventure too. 
It's a podcast for families, kids and older people. In fact, the voices that you'll hear in each episode belong to real over 55's stuck in isolation, who are keen to experience the outside world through the power of imagination. 
Armchair Adventures was recently recommended by BBC Radio 4's Podcast Hour and featured on Podcast Radio.
Available for free, wherever you get your podcast including
Keep up-to-date on all things #ArmchairAdventures
Follow us on on our socials!