Participatory Arts in Health and Care Research
Made By Mortals PAIR up with research groups and underrepresented communities across the Northwest to change how public engagement is done.
PAIR stands for Participatory Arts in Health and Care Research and will provide innovative arts approaches within the Public and Person Involvement and Engagement process, also known as PPIE. The team behind PAIR believe this new approach to PPIE will make research more accessible for communities currently underrepresented within health and social care and will ultimately lead to better-informed research and a healthier society for all.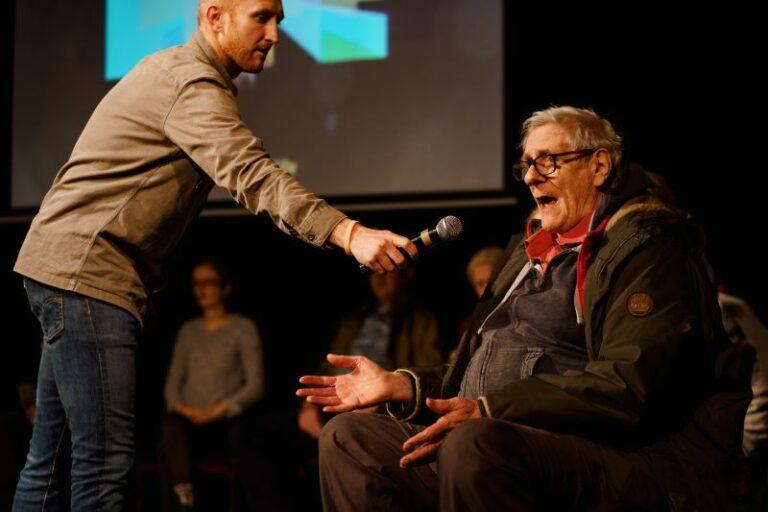 John sharing his lived experience of safeguarding during an interactive piece of theatre.
The National Institute for Health and Care Research (NIHR) has initially provided £125000 to the team behind PAIR to test new ideas and build partnerships ready for a larger-scale project in 2025. The PAIR project is one of several Innovative Public Partnership projects funded by NIHR to develop new ways of working together with communities on health and care problems. Pennine Care NHS Foundation Trust is the lead institution behind PAIR and the lead researcher is Dr Paul Clarkson. Other organisations involved in the project include Social Care And Society Manchester at The University of Manchester, Applied Research Collaboration North West Coast, Applied Research Collaboration Greater Manchester, Clinical Research Network North West Coast, Clinical Research Network Greater Manchester, Lancaster University Health Research Division, and Made By Mortals (participatory arts organisation).
Made By Mortals 'Bring Lived Experience to Life' through participatory arts practice. Participatory arts is the process of people making and taking part in the creation of 'art'. (irrespective of ability or experience). Made By Mortals supports research teams by building a community around research projects as part of the PPIE process. These communities include professional artists, health and social care practitioners, and most importantly groups of empowered individuals with the relevant lived experience knowledge. These communities work together with research teams through the use of the participatory arts, sharing their skills and experiences on an equitable footing for the common good. Made By Mortals' approach involves all members of the research community participating together to create audio stories, music, theatre, film, and interactive workshops to bring the research and the research process to life.
Learn more about Made By Mortals approach
Paul Hine, CEO of Made By Mortals and co-lead investigator of the PAIR project says "The community groups we support hold knowledge in the form of lived experience that can make a substantial impact on helping others through research. The people we work with want to use their experience and creativity to inform and challenge local and national health and social care policy, strategy, and practice. We have found that traditional methods of public engagement do not work for many community groups and have resulted in negative experiences."
The negative experiences Paul went on to describe often left people feeling "Used" and in some cases "retraumatized" by sharing their stories. People said they felt "Not really listened to" or "like they are a "problem" to be fixed. Many communities reported feeling "Inadequate" or "stupid" surrounded by language they did not understand and by people they did not trust. Community leaders said they were "Left in the dark" about what had happened with the information and insight they had shared and felt their members had felt "Pressured" into giving answers they believed researchers wanted to hear and were not what they really thought or felt.
Paul went on- "we wanted to use our skills as participatory artists to uncover a new, creative, and more beneficial way of doing things. We believe our approach is better for communities and more effective for research teams- it is a win-win".
"It gives you a sense of belonging and I feel a part of society in which I used to feel like I didn't fit in" – Michelle aged 33, participating from Tameside Hospital in a Made By Mortals participatory arts project.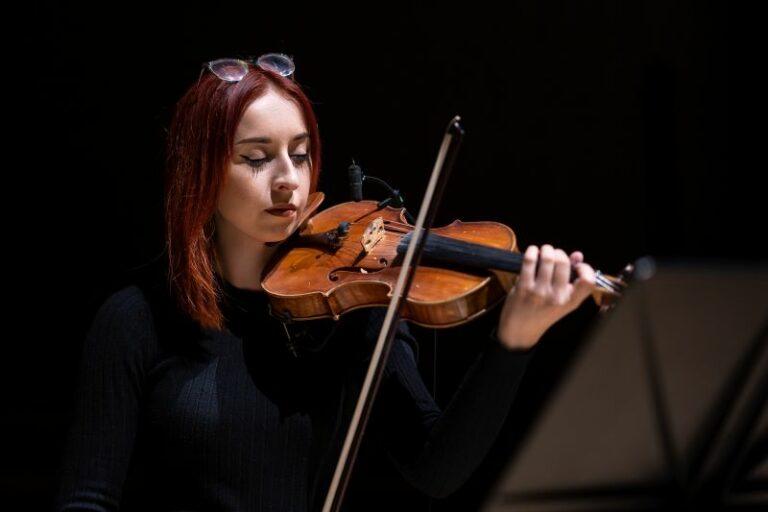 A violinist using music to bring the lived experience of a young person struggling with their mental health to life.
"I felt part of something bigger than myself, and that made me feel good about myself" – Katie aged 40, talking about the process of using her lived experience to create an audio story about a character struggling with their mental health. Used as part of the Research Engagement Network Development (REND) programme funded by the NIHR.
Dr Hazel Morbey, Senior/Research Fellow at Lancaster University and co-applicant on the PAIR project said "Research teams benefit from Made By Mortals approach as they get the opportunity to strengthen the health and wellbeing of the communities they are aiming to serve through the research process itself. They also get lots more imaginative and creative ways to communicate their research findings [films, audio, theatre, workshops] made by the communities the research is aimed at and in their authentic voices". 
Dr Paul Clarkson, Lead Researcher on the PAIR project said "In health and care research, participatory arts offer great opportunities for service users and patients to share and create experiences and shape research. However, it is crucial to gain a better understanding of their use, influence, and potential across all research stages – from naming problems or concerns (priority setting), to design, planning, and delivering research and sharing findings and learning. By building a network of researchers engaging in participatory arts, collecting data on the approach's barriers, challenges and potential impact, this Programme Development Grant will prepare a large-scale Programme of research. Ultimately, this research will help ensure that there is a direct benefit to people and their communities from being involved in research utilising participatory arts".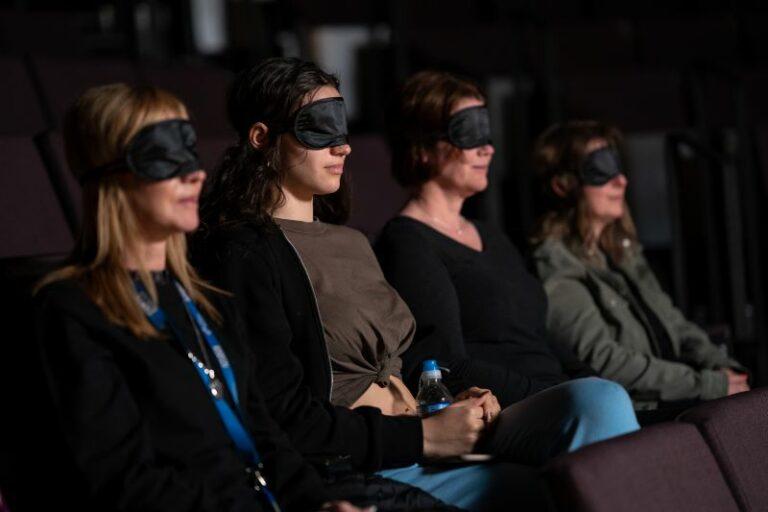 A group of health professionals listening to an audio story, using their imaginations to take a walk in somebody else's shoes.
This initial 12-month research project aims to strengthen relationships between community organisations, people involved in research, researchers, and users of research, through participatory arts. The learnings will be used to develop a NIHR Programme Grant application, to show how innovative participatory arts can be used in public involvement, to inform and benefit a collection of health and care research studies. Participatory arts 'taster' workshops with the associated NHS Trust and community groups are planned with the goal of encouraging further collaborations for the full Programme proposal. The project will focus on two areas in which participatory arts approaches are less, if at all, used: priority setting and sharing research findings, to show the impact these approaches can have. Co-produced materials will then be used to spread the participatory arts approach to other organisations and geographies and explore barriers and opportunities to involvement in participatory arts.
This project is structured around 6 distinct pieces of development work across 12 months:
Team building: Building on existing networks and links to the NIHR infrastructure, the team will develop a North West consortium led by the community organisation Made By Mortals, researchers at the universities of Manchester and Lancaster and the host Trust; Pennine Care NHS Foundation Trust.
Workshops: A series of workshops will be held to explore and promote the developed participatory arts model further, extend its reach and explore ways of evaluating the approach.
Development of methodologies for using the participatory arts approach: The team will design and develop methodologies for using the participatory arts approach.
Design of promotional activities: The research team will design a series of promotional materials and activities to disseminate newly developed methodologies
Scoping exercise: A scoping of the field, from the literature and through consultation at the above events, will be conducted to gather insight around the external and internal barriers and facilitators that are held around the further rollout of the developed participatory arts approach.
Development of a subsequent Programme Grant for Applied Research application: The team will plan and draft an application for a full Programme Grant.
Paul Hine, CEO of Made By Mortals concluded "The team behind the PAIR project come from different disciplines within Health, Social Care, Education, and the Arts. Collectively we believe it is possible that all stakeholders, including researchers, practitioners, commissioners, policymakers, and underrepresented communities, can coproduce a research project on an equitable and recognisably mutually beneficial basis. PAIR is our opportunity to come together and make this belief a reality so others can benefit from what we have found."  
"I learnt the lines and played my part, and made a really big difference, including to myself…that's how I built where I am now" – John, aged 78, a community cocreator and performer working with Made By Mortals on a piece of participatory theatre providing insight about issues of safeguarding.