Let's continue our Magical Mystery Cycling Adventure!
Grab your bike helmet adventurer, because it's time to continue our journey of the imagination to The Bike Kitchen with Connie and the gang!
In Part One, Christine decided she'd like Connie and the gang to join her for a magical cycling adventure. It's time for her to donate her old bicycle to Manchester Bike Kitchen, so she'd like one last hurrah! The gang cycled over hill, under water, through the arctic tundra, and even up into space – which is where they'd got stuck last time we saw them!
The gang bump back to Earth as we kick off Part Two… and not a minute too soon! It's about time Christine gets to The Bike Kitchen. After sharing parts with her friends when they got into trouble during our magical cycle ride, there's not much left of the bike that she's donating when they reach their destination.
However, it's not just Christine who could do with trading in her wheels. The Bike Kitchen's Andy realises that Connie's ultra high tech bike isn't right for her. Luckily he's got a trick up his sleeve to find the perfect match for her…
Andy:               The sorting helmet. A little bit of bike kitchen magic! You try it on and it reveals the one true bike for you! Showing you all the future rides you and your bike will go on together…

Connie:            I don't need the sorting helmet.

Andy:               Are you sure? Because I'm telling you that bike is not the bike for you.

John R:            You might not like to try the sorting helmet on Connie, but I would!
Manchester Bike Kitchen teach people bike maintenance skills so they can keep their own bikes going for longer, as well as cleaning, servicing and repairing preloved bikes so they get a new lease of life. We had a fantastic time meeting the team there, with The Bike Kitchen's very own Andy making his acting debut when he joined the cast of Armchair Adventures!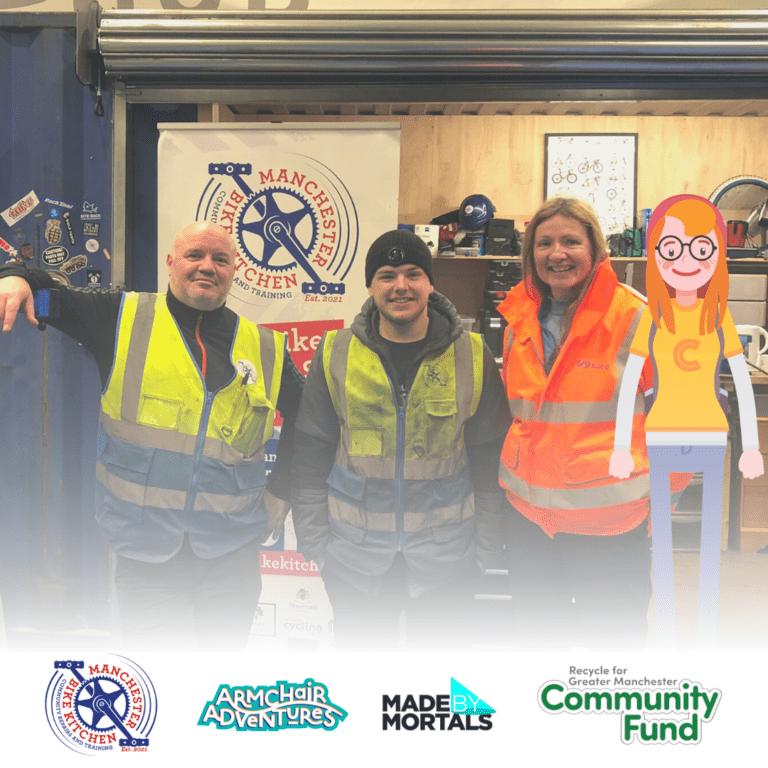 This episode of Armchair Adventures is funded by the Recycle for Greater Manchester Community Fund, supported by SUEZ.
The next episode of Armchair Adventures will be released on Thursday 1st June. In the meantime, if you loved this adventure please rate and review Armchair Adventures on Apple Podcasts – it really helps other adventurers to find us!
👂 Listen now to the Armchair Adventures Podcast series 👂
Available for free, wherever you listen to podcasts including
or, you can also ask your Alexa or Google home very nicely to play 'Armchair Adventures podcast'
👇Follow us on our socials!👇
Keep up-to-date on all things #ArmchairAdventure
Got a question, enquiry or simply want to get in touch?