Join us as we continue with An Inside Nanna's Head Adventure!
Shh, the interval is over and the second half is about to begin – yep that's right, it's time to continue with our journey inside Nanna's head with the release of our latest episode of Armchair Adventures!
In Part One of An Inside Nanna's Head Adventure, we met the community theatre company who were putting together a new children's show explaining mental health illness. Connie was keen to learn about supporting loved ones during struggles with their mental health as her Nanna isn't well. The theatre company set the scene for an exciting theatrical journey inside Connie's Nanna's head to help bring her experience to life!
In Part Two, we've all had our favourite interval snacks and we're ready to find out what happens to the protagonist next…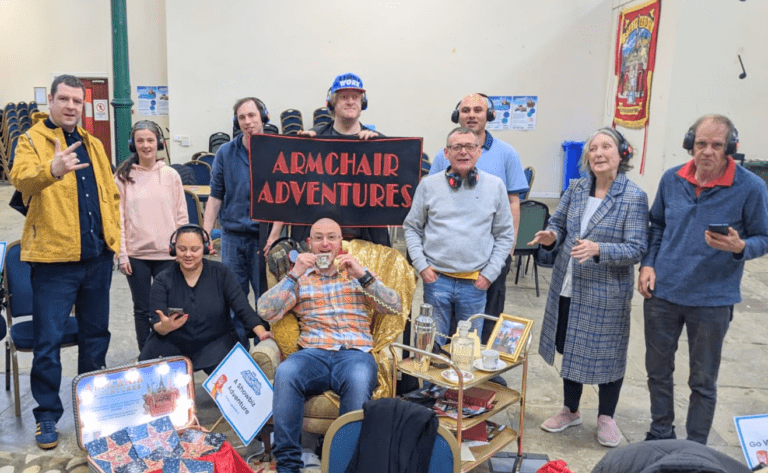 Connie:                    We're in the middle of a theatre show. The protagonist, the main character, of our story is stuck fast down the bottom of a deep dark well and she might never get out.

 

John:                       Places, please. Act four.

 

Connie:                    Act four. It can't be act four. There's only five acts, so that means our theatre show is almost over and our protagonist is still stuck fast. In fact, things have been going from bad to worse throughout the whole story. It's like you lot want things to go wrong.

 

John:   Well it wouldn't be much of a theatre show if nothing went wrong for the protagonist Connie.
There's lots of join-in-at-home fun to be had with music that helps to explain what people might be feeling when they're experiencing mental ill health. The story and the music have been created with people from our creative community who have lived experience of mental health struggles. They do a brilliant job of helping us to understand something which might be tricky to understand!
We hope that An Inside Nanna's Head Adventure will be a useful tool to teach children about mental health illness. The adventure is split into two bite-size episodes, so it's perfect to listen to on car journeys, after school or at bedtime!
Our next Armchair Adventure will be released on Thursday 2nd March – see you then adventurer!
👂 Listen now to the Armchair Adventures Podcast series 👂
Available for free, wherever you listen to podcasts including
or, you can also ask your Alexa or Google home very nicely to play 'Armchair Adventures podcast'
👇Follow us on our socials!👇
Keep up-to-date on all things #ArmchairAdventure
Got a question, enquiry or simply want to get in touch?