By Paul Hine, director of Made By Mortals
I came across the concept of accomplice rather than just ally recently as part of some inclusivity training I did at the Clore leadership course I am on. I immediately took the concept onboard. For me, it denotes action and not just support.
Abi: The first person to take the knee was an American Football player and he chose to kneel as a peaceful protest after careful consideration.

Pauline: Kneeling was chosen because it is a respectful gesture and the shape your body makes as you kneel mirrors the shape of a flag flown at half-mast- which is something that happens after a tragedy.

(Extracts from Armchair Adventures Unity Adventure episode)
Our latest Armchair Adventures episode- a Unity Adventure- was made in partnership with The Caribbean and African Health Network (CAHN). The episode follows our protagonist (Connie- a white schoolgirl from Ashton-Under Lyne) on a journey to discover what white people can do about racism- how even a seemingly powerless white school kid can become an accomplice and not just an ally in the fight for racial justice. I think the episode and accompanying education pack (aimed at children) has a lot to say to grownups and arts organisations also- it is more important than ever to actually do something and not just support with well-meaning intentions.
Abi: We have written a song that brings people together to combat racism and highlights that so-called Black History is part of everyone's history and not just something you think about in October.
I met CAHN's CEO Rev Charles Kwaku-Odoi at the One Manchester forum about 18 months ago. His presentation blew me away. His passion and knowledge of his subject area (racial injustice in Manchester) was striking, and he communicated complicated ideas in a very accessible and inspirational way. At the time, like many arts organisations, we looked around ourselves and realised that most of the people we were working with were not very ethnically diverse. Our approach to diversity at the time, was centred around accessibility. We believed that by making our creative process and ethos as open and accessible as possible that that would be enough to make our organisation and the people we worked with diverse and representative of the geographical area we lived.
Pauline: The trouble with taking the knee at my age is it's so blinking hard to get back up.

Connie: Here let me help you, Pauline.
As a participatory artist, I had somewhere along the line come to the conclusion that certain communities were not for me to work with, or certain stories were not for me to be involved in the telling. I'm not sure why and how I made this distinction, but when it came to race, I had presumed other artists and organisations were doing that work. I guess I thought that it was important to be a black artist to work with a black community or an Asian artist to work with an Asian community for example. Even though I regularly worked with other communities that I wasn't a part of, for some reason when it came to race, I didn't feel it was my place and, I guess, responsibility to do that work.
Abi: You said you wanted to sing about something that really matters Connie, you won't get a better opportunity than this one.

Connie: I guess not but…well… no one will listen to me and I don't think my voice is important and besides I'm well… white.

Pauline: Oh Connie, your voice is very important, isn't it everyone?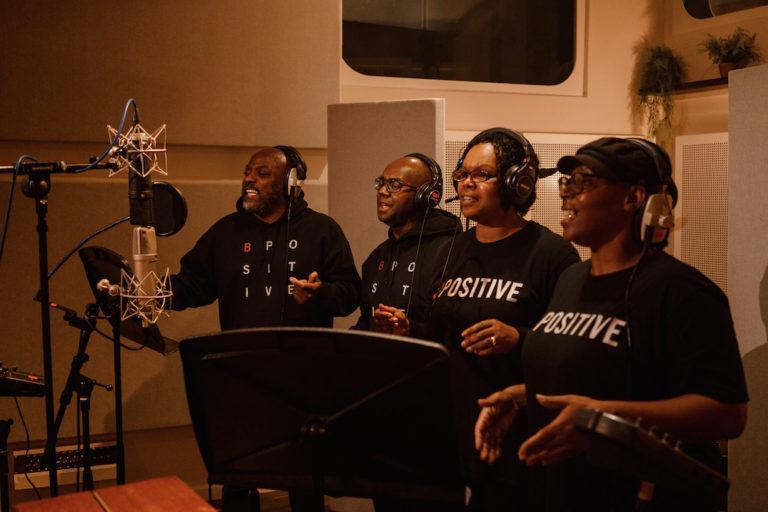 Having heard Charles talk, together with reading books like Why I'm No Longer Talking To White People About Race by Reni Eddo-Lodge and Natives by Akala, I realised that that approach was not working, that it was time to be much more proactive around diversity. I realised that an accessible practice is the absolute bare minimum of what is expected, and it was time to actively engage with new partners, people and communities. My first port of call was to reach out to Charles and other people of colour in my network. Charles gave me and MbM the opportunity to actively recruit black people and lent his name and expertise to the funding applications we put together to get the work off the ground.
Don't just wait for the world to catch up? I think it is vitally important that there are many more black and Asian artists out there making work and facilitating arts projects and much more needs to be done to ensure that that is happening. But those artists shouldn't feel they can only make work with black and Asian communities, that, in my opinion isn't diversity. I have come to the conclusion that people and organisations with the skills and experience to tell stories and work with any underserved communities should be doing exactly that, irrespective of whether they are black, Asian, white or any other group led, as how else will those stories and communities get heard?
Abi: Change doesn't have to always be a big thing you know. Multiple small acts by 'ordinary' people make a big difference. If you only know 10 people, influence them, educate them, have a conversation with them, that's how we can make real change happen.
It is hard work. The MbM team have spent more time going to meetings and more resources on promotion and communication than we have spent on previous Armchair Adventures projects. We have done this because we wanted and needed to build trust, we wanted to get it right and we wanted to learn and change so we can get it right going forward. This takes effort and rightfully so. We got it wrong at times. For example, some of our initial imagery for the project promotion was lazy and lent into stereotypes. But we held open and honest communication and together we put it right. We listened to each other, and we learnt from each other.
Abi: Connie it's not just the obvious racism that Pauline's dad experienced, or the footballers experienced after the Euros that we want to highlight. It is important for your listeners to understand that treating other people unfairly can be something people do without thinking.

Pauline: Most people don't do this on purpose, they do it because they've always done things that way and never questioned it.

Abi: It's ok to get it wrong in the past, it is what you do in the present that counts.

Chris: That's why we wrote the song.
We held sessions at The West Indian Social Club on a Wednesday afternoons. At that time the place was often teeming with people. I had never before been in building filled with people when I was the only white person. This felt like an important experience for me as a wannabe accomplice. I also had the great pleasure of being with the group after the Euros. I was afforded the opportunity to listen to people talk about racism and its impact in the first person. I was given the opportunity to listen to people's experience and using my experience in theatre to help them use it to create a script for children. This taught me a lot. It taught me the importance of language and the words we choose. It deepened my understanding of seemingly complex ideas around race and gave me the opportunity to be involved in communicating them for children. I am very grateful to project participants Pauline, Mandy, Carrol, Celeste, Abi, Chris and Dianne, and of course Charles and the rest of the team at CAHN, for their generosity, patience, and creativity- thank you for working with us and supporting us to change. I'm excited about taking the lessons we have learnt through this project into the future and ensuring Made By Mortals approach to diversity and inclusion is based on being a committed accomplice in the fight for racial justice and equality.
Abi: Do you understand why it is so important for you to join in with us now Connie?

Connie: Yes, I do.

Connie:
I was not using my voice,
Had no confidence to sing.
No one would care and I was afraid.
Afraid of what people might think.

Now I know all our voices matter,
Stand as one people,
Sing in unity.

Connie: Listener, you join in as well- together every voice counts.


Unity,
And love is all we need.
Unity.
And truth will set us free.

Because all out voices matter,
Stand as one people,
Sing in unity
The love you'll see.

Unity,
And love is all we need.
Unity.
And truth will set us free.
Available for free, wherever you get your podcast including
Keep up-to-date on all things #ArmchairAdventures
Follow us on on our socials!