Continue on with A Charity Shop Adventure! 😃
In Part One of A Charity Shop Adventure, we met our competition winner Denise. She won the chance to share her very own Armchair Adventure with all you adventurers, isn't that cool?
She took us on an Armchair Adventure to Willow Wood Charity Shop (where she works!) to help Connie discover the joy of preloved things using a very special magic mirror to reveal an item's former life. Connie doesn't think she can give up the things she's loved and all the memories attached though. They're all very special to her!
When we join Connie and the gang in Part Two, she's still not sure about donating her childhood toys. Luckily the gang have brought lots of things to donate with them, and the magic mirror has another trick up its sleeve…
"Connie:          Great. What did you guys bring?

 

Kenny:             I have a six-speaker sound system. It doesn't work with my telly, but it might be useful to somebody else. The sound is great, it surrounds you. Like being in a cinema.

 

Carla:               Why don't you hold it up in front of the magic mirror Kenny?

 

Connie:            Woah, hang on. Where's the mirror taken us to now?

 

Linda:              We already know who this belonged to!

 

Connie:            Have we gone forward in time?

 

Christine:         Wow! I think we have!

 

Denise:            Extraordinary. This is the first time this has happened.

 

Connie:            Let's see who gets your speakers, Kenny!"
That's right, the magic mirror can show you an item's future home! Could this be the thing that helps Connie let go of things she's outgrown? Listen to A Charity Shop Adventure – Part Two and find out 😊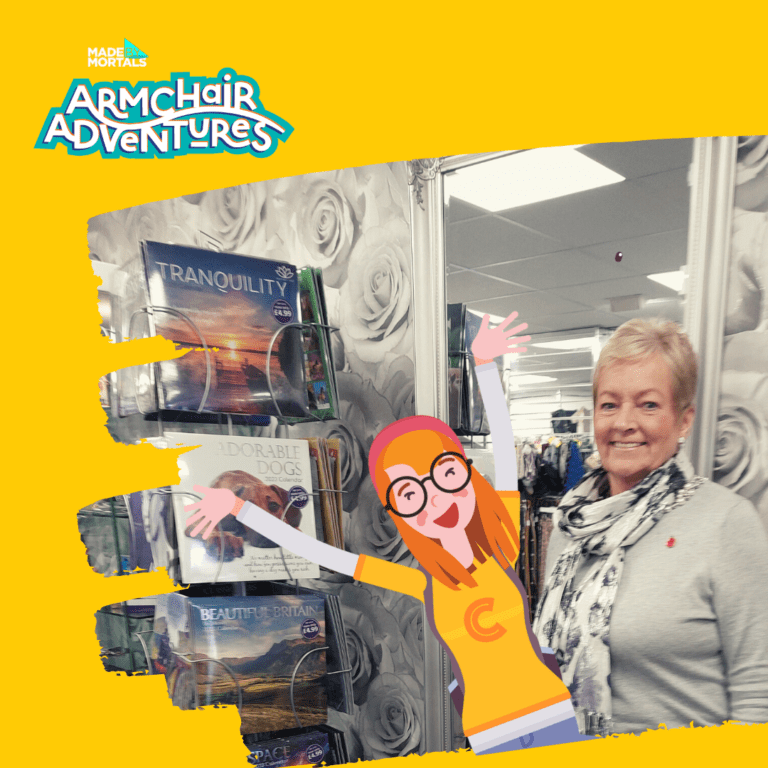 Whilst you're waiting for our next adventure, make sure you enter our drawing competition, adventurer. We'd like you to send us a picture of where you would like to go on an Armchair Adventure with Connie and the gang. You'll find a drawing template here!
All of our lucky winners will have their drawings shared with our community of adventurers around the world, and we'll send them an Armchair Adventures goodie bag!
Send your amazing drawings to us on social media or by post to Connie, Made By Mortals, Ashton Old Baths, Tameside, OL6 7FW
We can't wait to see what you come up with!
See you on Thursday 2nd February for our next Armchair Adventure 🙌
👂 Listen now to the Armchair Adventures Podcast series 👂
Available for free, wherever you listen to podcasts including
or, you can also ask your Alexa or Google home very nicely to play 'Armchair Adventures podcast'
👇Follow us on our socials!👇
Keep up-to-date on all things #ArmchairAdventure
Got a question, enquiry or simply want to get in touch?