A Time Travelling Cricket Bat Adventure!
Come and join Connie and the gang on A Time Travelling Cricket Bat Adventure, with our latest episode of Armchair Adventures! 💛
A Time Travelling Cricket Bat Adventure is led by our new friend Kanti. Kanti was one of two winners of our Armchair Adventures 'Share Your Story' competition – winning the chance to turn his story into an Armchair Adventure! 👏👏👏
Connie has been invited to speak about Armchair Adventures at a Public Speaking Championship, but she's too shy to say yes. Her new friend Kanti understands exactly how she feels, but Connie can't quite believe it – he seems so confident!
Kanti decides to take Connie and the gang on an Armchair Adventure into his incredible past – from school days in Tanzania to boarding a bustling London train – showing how he overcame his shyness. All it takes is three taps of a magic cricket bat and it's back in time we go!🏏
Kanti:                    Public speaking didn't come easily to me. Let me prove it!  Why don't we go on an Armchair Adventure to my past to see how I overcame shyness?

 

Connie:                Oh yes, that's a great idea! Where to first?

 

Kanti:                    Tanzania, East Africa!

 

Connie:                Awesome! Only… how would we travel back in time?

 

Kanti:                    We just need something that represents me as a young person that will transport us. That's how time travel works!

 

Connie:                Does it?

 

Kanti:                    On an Armchair Adventure it does!

 

Connie:                Ha. Of course! Ok then… what could represent younger Kanti?

 

Kanti:                    How about… Cricket?  I have always been mad about cricket.
As well as Kanti, Connie and the gang, the episode also features the voices of Year 6 from Bradley Green Primary School! They joined us for a super fun session at the Armchair Adventures Installation Extravaganza at Stalybridge Civic Hall last month, and whilst they were there they got the opportunity to become podcast stars. 🎙️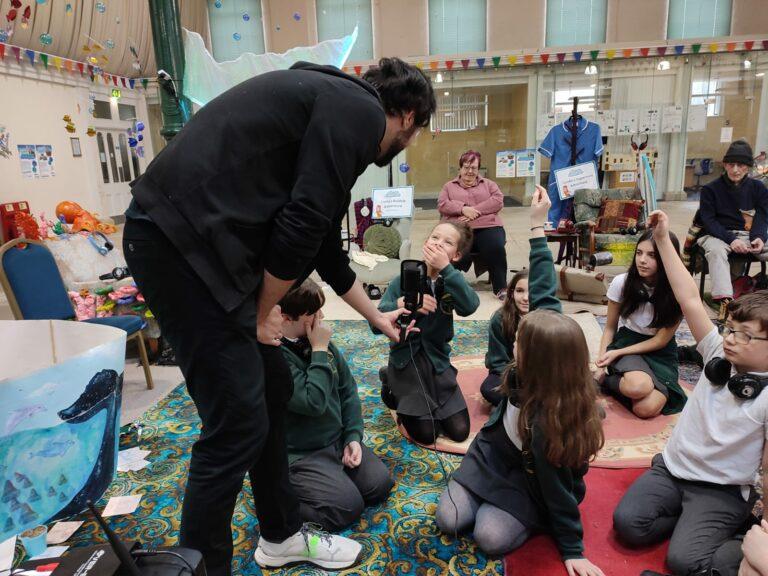 We'd like to say a great big thank you to Year 6 for bringing loads of fun and imagination to the task!
A Time Travelling Cricket Bat Adventure concludes with Part Two released on Thursday 16th March, make sure you join us then to find out if Connie can face her fears and rock the Public Speaking Championships!
👂 Listen now to the Armchair Adventures Podcast series 👂
Available for free, wherever you listen to podcasts including
or, you can also ask your Alexa or Google home very nicely to play 'Armchair Adventures podcast'
👇Follow us on our socials!👇
Keep up-to-date on all things #ArmchairAdventure
Got a question, enquiry or simply want to get in touch?