A Pride Adventure – Out Now! 🌈
On your marks, get set, MAKE! It's time to test your sewing skills in 'A Pride Adventure' – the latest episode of join-in story podcast for kids, Armchair Adventures…
We're getting ready to celebrate Pride, and Connie is busy crafting a float for the parade! She needs some cool costumes to go with it, so Uncle Chris and the Armchair Adventures customers step in to help.
There's no costume inspiration to be found in the Armchair Adventures store cupboard, so Uncle Chris decides to take the gang on a journey of the imagination to a sewing tent stuffed full of recycled materials, ready to be upcycled in a TV-show style episode of 'The Great British Make Off'.
There's one big problem though – none of the customers are too handy with a needle and thread. 🪡
Uncle Chris: Now everyone, we only have ONE hour to craft as many costumes as we can.

Gang: AN HOUR!

Uncle Chris: That's right everyone. No time to dilly dally! First up we have team one, led by Anne…

Anne: Oh no, not me! It took me five years to make an underskirt at school.

Uncle Chris: Heading up team two is Ronnie!

Ronnie: Oh dear, the last thing I made for someone they ended up using it as a mop.

Uncle Chris: And last but not least, leading team three is Pauline…

Pauline: I'll do my best, but the last thing I made had one leg longer than the other.
Luckily, Uncle Chris has recruited some top-notch crafty experts to help out – enter Maddie and Lee from Stars & Stitches!
Stars & Stitches are a Bolton based organisation which provide community art workshops, with a focus on celebrating people being who they are in a safe space. They offer a wide range of activities, from poetry and art workshops, to woodwork, upcycling and sports. If you'd like to find out more about what they offer, you can contact them via their website.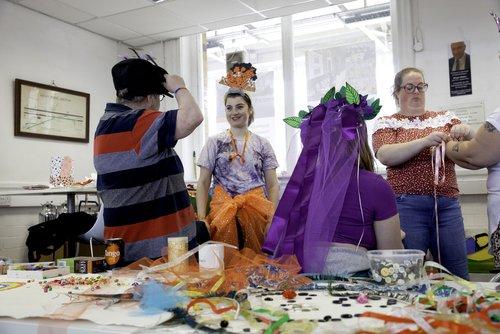 With Keith sewn into a t-shirt and charging around like a mummy and Cyril transformed into a fabric monster, will Uncle Chris and the gang manage to put together a single costume in time? Perhaps some wise words from Maddie and Lee can help our crafty crew!
This episode of Armchair Adventures was funded by the Recycle for Greater Manchester Community fund, supported by Suez. ♻️
We hope you enjoy 'A Pride Adventure' – it's the final episode of Armchair Adventures Series Three! We'll see you again in September for loads more adventures.
👂 Listen now to the Armchair Adventures Podcast series 👂
Available for free, wherever you listen to podcasts including
or, you can also ask your Alexa or Google home very nicely to play 'Armchair Adventures podcast'
👇Follow us on our socials!👇
Keep up-to-date on all things #ArmchairAdventure
Got a question, enquiry or simply want to get in touch?