A Gardening Emergency Adventure – Out Now! 🎧
Get your gardening tools at the ready, as you're going to need them for the latest episode of Armchair Adventures.
In 'A Gardening Emergency Adventure', we're gearing up for the star-studded Armchair Adventures summer BBQ. Anyone who's anyone is going to be there, from Dolly Parton to the abominable snowman!
Uncle Chris has told Connie that he's going to get the Armchair Adventures garden looking gorgeous in time for the party. There's one problem though… he doesn't know the first thing about growing! 🪴
Ronnie: Oh, look at those flower beds! It's weed city!

Linda: You'll never grow anything in that soil Uncle Chris

Pat: It's dry as a burnt pizza!

Lynda: That greenhouse has seen better days

Walter: Barely a pane of glass in it!

Pauline:  And I can hardly see anything over this grass!

Ronnie:  It's like a maze, I'm lost! Help!
With BBQ time looming, Uncle Chris enlists the Armchair Adventures customers to help him out as he gets to grips with some top tips from Sow The City's Ciaran!
Sow The City are a non-profit organisation based in Moss Side, Greater Manchester that help empower communities to grow and live more sustainably. That means things like growing your own food, reusing and recycling and helping the planet.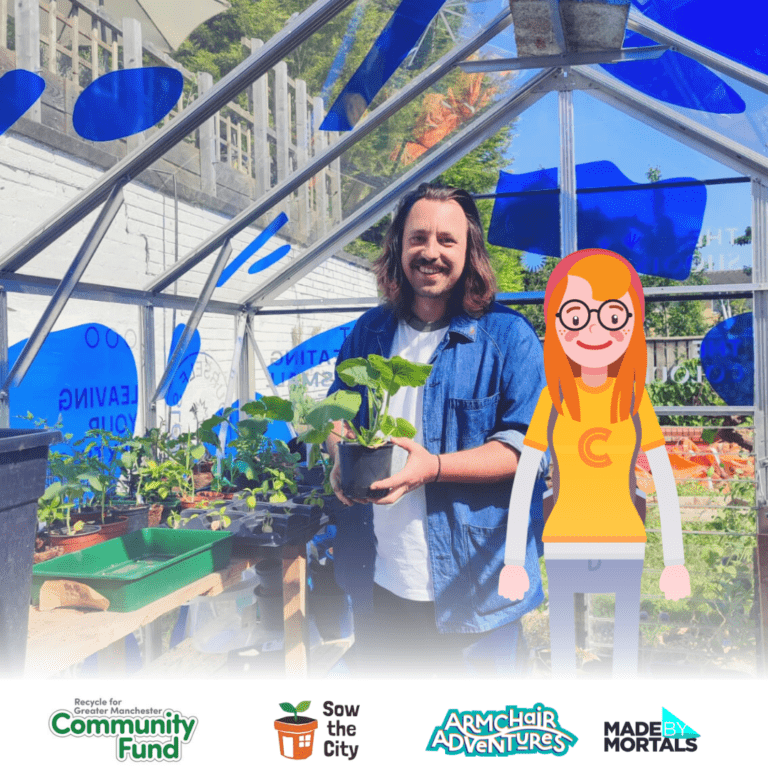 With a little bit of Armchair Adventures magic combined with Ciaran's advice, the garden is transformed from wasteland to wonderland, packed full of sustainable features which help support the environment… all whilst looking totally fabulous for the big bash!
This episode of Armchair Adventures was funded by Recycle for Greater Manchester's Community Fund, supported by Suez. ♻️
Join us on Thursday 10th August for the final episode of Armchair Adventures Series Three. See you then, adventurer 😀
👂 Listen now to the Armchair Adventures Podcast series 👂
Available for free, wherever you listen to podcasts including
or, you can also ask your Alexa or Google home very nicely to play 'Armchair Adventures podcast'
👇Follow us on our socials!👇
Keep up-to-date on all things #ArmchairAdventure
Got a question, enquiry or simply want to get in touch?