A Friendship Fixing Adventure – Out Now!🎧
This month, we're going on A Friendship Fixing Adventure with our join-in story podcast for kids, Armchair Adventures!
Lead adventurer Connie is having a really bad day! She's fallen out with her best friend and broken her friendship necklace. She heads back to Armchair Adventures Travel Agency after school, where she chats with customer Kenny, who knows all about fixing broken things. He decides it's time to round up the gang and head to the Boiler House's Repair Cafe to get the necklace repaired.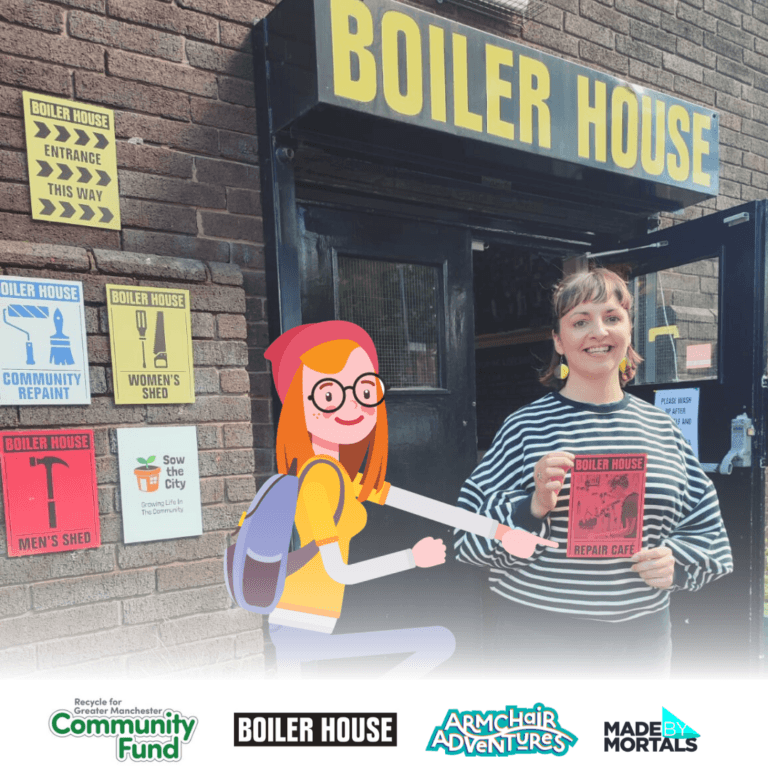 The Boiler House (based in Moss Side, Manchester) empower their community to grow and live sustainably. One of the things they offer is their regular Repair Café, where anyone can bring along a damaged or broken item and receive expert help in fixing it, preventing waste going to landfill.
Connie and the gang are keen to get there to find out what can be done with the necklace, but they've got to journey through a magical park to get there!
Steve: The trees are beautiful.

Lily: The blossoms are in bloom, so colourful.

Anne: Pinks, peaches and lilac.

Linda: Watch out for those squirrels!

Connie: Where are we? I've never been to this park.

Steve: It's very unusual. Magical even.

Pauline: Is it my eyes, or are those sheep different colours? Like turquoise, orange and blue?

Hazel: I keep seeing what looks like tiny elves running in and out of the trees. Could just be a trick of the light?

Cyril: Beautiful bluebells, they look like they're dancing!
But it's not all a walk in the park, as the gang find out when they come face to face with an enormous grizzly bear and a seriously ropey bridge!
Can they stick together and make it over to the Repair Café so Connie can be in with a shot of fixing her necklace… and perhaps even her friendship?
Make sure you listen to Part Two of A Friendship Fixing Adventure on Thursday 15th June to find out what happens next, adventurer!
👂 Listen now to the Armchair Adventures Podcast series 👂
Available for free, wherever you listen to podcasts including
or, you can also ask your Alexa or Google home very nicely to play 'Armchair Adventures podcast'
👇Follow us on our socials!👇
Keep up-to-date on all things #ArmchairAdventure
Got a question, enquiry or simply want to get in touch?