A Christmas Spirit Adventure – Out Now!🎄
It's the most wonderful time of year so we've got a special treat for you, can you guess what it is, adventurer? That's right, we've got a brand new episode of Armchair Adventures ready to fill you with Christmas cheer! 🎄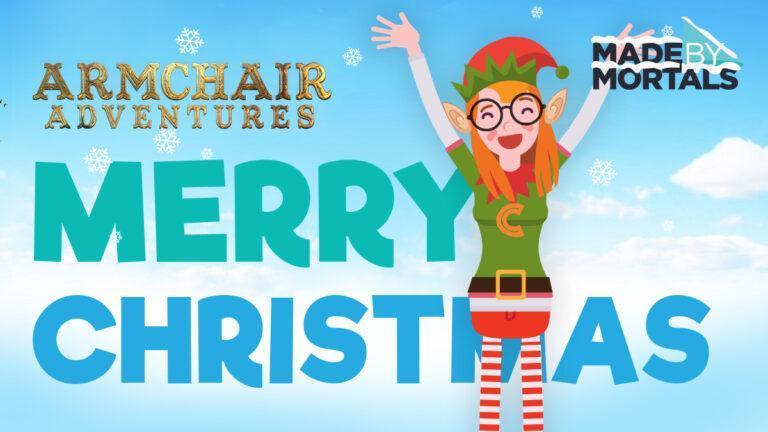 However, in 'A Christmas Spirit Adventure' not everyone is filled with that festive spirit. Connie is on an adventure in Lapland and she's left Uncle Chris in charge at Armchair Adventures Head Quarters. The gang are keen to come over and decorate for Christmas as a surprise for Connie… but Uncle Chris isn't so keen on the idea. The thing is, he doesn't like Christmas!
Customer:         Whaaaaaattt!! You don't like chestnuts roasting on an open fire?

Uncle Chris:        CHESNUT? I chest – not

Customer:           What about giving and receiving presents!

Uncle Chris:        Have you never heard of birthdays?

Customer:           What about all the delicious Christmas food?! Christmas pudding? Selection boxes, Roast turkey with all the trimmings!!!

Uncle Chris:        I have a perfectly good roast on a Sunday…
The gang decide that they need to take him on a Christmas adventure to help him rediscover his Christmas spirit, with the help of all you adventurers of course!
You'll join in with lots of Christmas fun and games stuffed full of drama. Shake a tail feather as we dance our way through the decorating together, we want to see your best funky turkey! Or maybe you'll love giving Christmas food silly new names – anyone for extra giant bogey balls? We'd love to see pictures of you and your family playing along with 'A Christmas Spirit Adventure' at home! 🏠 Send your pictures to us on Facebook, Instagram or Twitter and we will share them with adventurers around the world 🌍
Will you and the gang be able to help Uncle Chris find his Christmas spirit? Or perhaps a very special guest can help remind him how merry this time of year can be 🎅
'A Christmas Spirit Adventure' is our last Armchair Adventure of the year, but don't worry because we'll be back on Thursday 5th January with the first part of our next adventure. Make sure you're subscribed so you don't miss it!
Merry Christmas adventurer! We hope your festive season is stuffed full of Christmas spirit!❄️
👂 Listen now to the Armchair Adventures Podcast series 👂
Available for free, wherever you listen to podcasts including
or, you can also ask your Alexa or Google home very nicely to play 'Armchair Adventures podcast'
👇Follow us on our socials!👇
Keep up-to-date on all things #ArmchairAdventure
Got a question, enquiry or simply want to get in touch?